September 18, 2008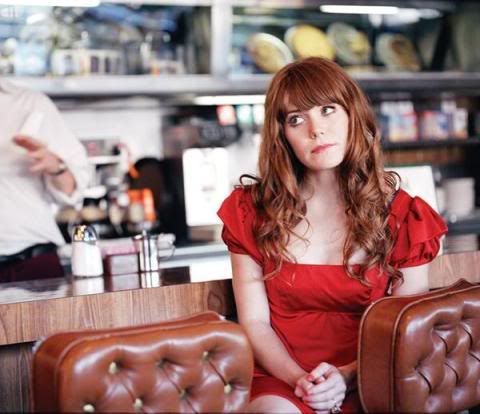 While, I'm getting prepped up for Pygmalion Fest this weekend here's a couple new tracks for you to chew on from two artists who couldn't be more different.  First one is from everyone's favorite indie rock hottie / Kanye West song-tester (not to mention extremely talented singer/songwriter/bandleader), Jenny Lewis and it's the title track from her new album, Acid Tongue.
Jenny Lewis experimented with gospel on Rabbit Fur Coat, but this is her first shot at full out Sunday morning choir music.  What's noticeable from the very beginning is how stripped down and vintage the sound is.  The old-fashioned acoustics is what gives the song its life, making Jenny Lewis' gorgeous voice and the multi-layered harmonies that surround it even sharper.  It makes for a completely enchanting 3 minutes and 50 seconds of music.  This song seems like the somber, beaten-down cousin to the Rilo Kiley track, "With Arms Outstretched".  It's as if Jenny arrived at the promised land, optimistic and wide-eyed, got in with the wrong friends, dropped acid a few too many times, and is leaving wiser for the wear.
MP3 Los Campesinos! – Ways To Make It Through The Wall
For as much as I love Welsh indie-pop collective Los Campesinos!, I felt something was missing from their debut album.  I songs I already knew, I liked better in their demo/EP form and the new songs weren't as memorable as I hoped.  I've listened to the new album, We Are Beautiful, We Are Doomed a few times through now and in my opinion the band has completely redeemed themself.
The melodies are as catchy and the instrumentation as dynamic as anything they've done, and they've perfected the art of accenuating their music with unrestrained sonic outbursts (take 1:38-2:00 as an example).  As always, LC! have peppered their lyrics with the same clever / inventive observations and references that you'd expect from them.  "Ways To Make It To The Wall" is the first track and presumable single of the album, and in my opinion, is probably the best chorus that the band has created.  It's been stuck in my head since the moment I heard it.
Tags: Jenny Lewis, Kanye West, Los Campesinos!, Rilo Kiley